Fri, 05/27/2011 - 16:02
Stone-faced Clinton pays Pakistan a frosty visit
Oh boy, I wouldn't want to be in any of those senior Pakistani officials' shoes.

US Secretary of State Hillary Clinton arrived in Pakistan today for a "surprise visit" that was really the worst-kept secret in Af-Pak circles.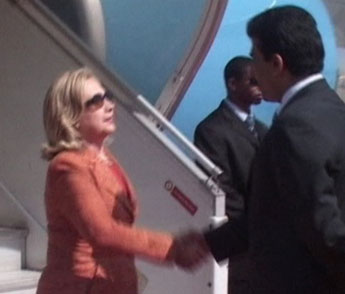 Clinton was expected to visit Pakistan earlier this month, shortly after the US raid on Osama bin Laden's Abbottabad dwelling. But that was postponed as Washington needed more time to gauge Islamabad's reaction to the raid.

We've had weeks of Pakistani reaction by now and it's been grim for US-Pakistani relations.

There were the usual Pakistani complaints over sovereignty violations and their favourite punching bag, the US drone strikes of course.

But then came the deliberate Pakistani attempts to undermine bilateral security cooperation, such as the leaking of the name of the CIA station chief in Islamabad and cutting down the US troop presence in Pakistan.

Pakistani authorities did however agree to allow the CIA to examine bin Laden's Abbottabad compound.

If you think that sop would help warm up the Clinton visit, you're dead wrong.

Iron Lady meets Zardari

Ever since she took over as Washington's top diplomat, Clinton has been a charm powerhouse on the road. She beams brightly for the cameras no matter how tired she may be after jetting around the world. Cameras have caught her guffawing with an array of gracious heads-of-state and foreign ministers, and she's adept at soothing hurt egos - as she did when US relations with Afghan President Hamid Karzai hit rock bottom.

In an earlier blog on her July 2010 trip to Pakistan, I snidely noted that Clinton attempted to "buy the love" in Pakistan by praising the country's "delicious" mangoes even as the local press pilloried her every step of the way.

But there were no sweet, fruity displays in Pakistan today.

A grim-faced Clinton met with Pakistani President Asif Ali Zardari at the presidential palace, where limited access was provided to the press. When the cameras were allowed in for a few brief moments with no sound on tape, we saw a stony Clinton nod impassively as Zardari yakked on.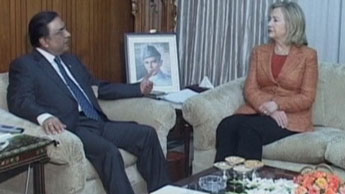 At a joint meeting with chairman of US Joint Chief of Staff Admiral Mike Mullen, Zardari, Pakistani PM Yousuf Gilani and Pakistani army chief Ashfaq Kayani among others, the atmosphere looked visibly tense.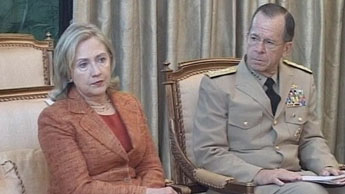 Kayani, sitting next to a sedately veiled Hina Rabbani Khar, Pakistan's acting foreign minister, looked haggard and drawn.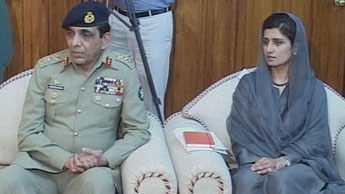 Leaked cables expose Pakistan - again

In her brief statements to the press, Clinton displayed her Iron Lady face, the one famously featured on the Apple ad remake film during her 2008 presidential bid, which had Clinton standing in for Big Brother.

"There is absolutely no evidence that anyone at the highest level of the Pakistani government knew that Osama was living just miles from where we are today," she said.

Nobody expected her to say otherwise. She is after all, the top US diplomat on the job.

It's hard to tell what the Pakistani government actually knows.

The Pakistani press in recent days has been abuzz with reports of leaked US diplomatic cables that show the complete collapse of communication between Pakistan's civilian government and its all-powerful military establishment.

In one 2009 cable - released by WikiLeaks and published by the leading Pakistani daily, Dawn - the then Pakistani Finance Minister Shaukat Tarin actually asks then US Ambassador to Pakistan Anne Patterson to keep him informed of US funds to the Pakistani military.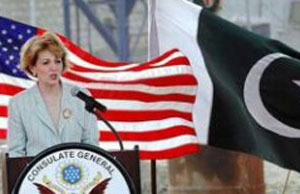 Apparently, as Washington suspected, the Pakistani military was inflating budget figures while US military aid was being shovelled into the non-military budget. Only the country's finance minister, a qualified banker, was unaware of the extent of it and had to plead with US officials to let him know what the Pakistani military chiefs were up to.

There's been a lot of grumbling on Capitol Hill, with US lawmakers questioning whether Pakistan should be receiving billions of dollars in US aid. Those Congressmen and women are not going to be happy with these latest reports.

Wanted: Accountants at Pakistan's Military Inc.

Much has been said about the Pakistani military's grip on the country and its strangling of successive civilian governments. Not much is said about the military's vast business empire, estimated at around $15 billion, which include industrial conglomerates manufacturing anything from cement to cornflakes. For more on that, I highly recommend Ayesha Siddiqa's riveting book, "Military Inc: Inside Pakistan's Military Economy".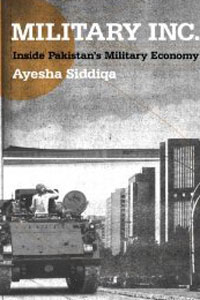 Given all that, it's deeply troubling to read in the leaked US cables that the Pakistani military appears to be in desperate need of qualified accountants.

According to one of the cables, the former finance minister told Patterson that the Pakistani military still falls short of properly accounting for its US military aid expenditures, "one aspect of which was its continuing inability to provide receipts".

So many issues, so many questions, so many doubts to hammer out…where do we even begin?

In the end, Clinton brushed aside suggestions that her meetings with senior Pakistani officials had been tense. But who believed her?

Not when she wagged a finger at the Pakistani penchant for blaming the US for all its problems.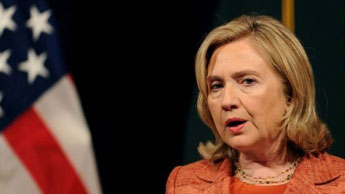 "America cannot and should not solve Pakistan's problems. That's up to Pakistan. But in solving its problems, Pakistan should understand that anti-Americanism and conspiracy theories will not make problems disappear," she said.

Neither will her assertions that all's quite well with US-Pakistani relations – that will not make the problems disappear either.