Mon, 04/26/2010 - 11:22
Champagne Nights in Kabul: The S&M Guide to the New Great Game
It's a last-minute, two-day stopover – sounds innocuous enough.

But nothing is innocuous in this region. And so, a last-minute, two-day stopover has triggered a new game of intrigue - complete with the usual suspicions and false starts – in the region's capitals.

Round one kicked off with the weekend announcement that Afghan President Hamid Karzai would stop by the Indian capital of New Delhi on Monday on his way to the SAARC (South Asian Association for Regional Cooperation) summit in Bhutan.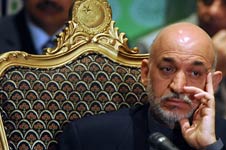 Since Kabul International Airport does not feature direct Kabul-Thimpu flights to the Bhutanese capital, a stopover in New Delhi seems sensible and well...innocuous.

Aha! Wrong.

Afghanistan is the board-game on which Islamabad and New Delhi play out their mutually suspicious, mutually antagonistic interests. So, if an Afghan leader drops by one capital, you can be dead sure the other capital is bristling.

As is the regional media and blogosphere. There's a particularly South Asian brand of spewing vitriol that packs bombast, grandiloquence, bad grammar, and an arsenal of long-expired colonial terms and phrases.

Asif Haroon Raja has some of my favorite gems. Writing about what he sees as a cabal of Indian, Israeli, US and British interests, Raja claims there were "roundtable conferences" in Kabul attended by officials from India's RAW (Research and Analysis Wing) intelligence agency, Israel's Mossad, the UK's MI-6, the CIA, and senior NATO officials.

So, what happened at these roundtable conferences? I quote Raja: "The band of six with champagne glasses in their hands would dance with joy from sunset till dawn. Pains of Pakistan became the delight of the sadistic gang."

I do like that champagne touch. I can see the title of a forthcoming book: "Champagne Nights in Kabul: The S&M Guide to the New Great Game".

What's on the agenda during Karzai's Monday meeting with Indian Prime Minister Manmohan Singh? Expect the usual: New Delhi will pledge its renewed commitment to Afghanistan's development. This will irritate Islamabad. The Indian government will probably raise concerns over the rise in attacks in Afghanistan targeting Indian nationals. This will irritate Islamabad. Finally, New Delhi is likely to express its concerns that next month's peace jirga in Kabul might pave the way for the Taliban's entry into the government in Afghanistan.

Now that's the big one.

Since the Jan. 2010 London Afghanistan Conference there's been a serious push in Kabul and among many Afghan experts to negotiate with the Taliban.

But that's not a popular strategy in New Delhi. India has long dismissed the distinction between "good" and "bad" Taliban. And New Delhi's biggest fear is that an ascendant Taliban in Kabul means an increase in Pakistani influence in Afghanistan.

Or to quote a blog in the leading Pakistani daily, Dawn, "During the talks, Bharati [Indian] official [sic] will caution President Karzai about seeking Islamabad's help, and will try to pressure him into changing his mind. The will [sic] then sell the Bharati [Indian] line that Pakistan is evil, should not be trusted, and that it will bring war."
Comments or opinions expressed on this blog are those of the individual contributors only, and do not necessarily represent the views of FRANCE 24. The content on this blog is provided on an "as-is" basis. FRANCE 24 is not liable for any damages whatsoever arising out of the content or use of this blog.