Tue, 01/04/2011 - 23:05
Pakistan's 'Last Man Standing' Against Blasphemy Laws Becomes Its Latest Victim
I remember the last time I saw a photograph of Salman Taseer – this was before the shocking news of his assassination on Tuesday hit the headlines and plunged Pakistan into yet another paroxysm of grief and despair.

It was in November last year, a few days after I published a blog posting on the Asia Bibi story and I was checking if there were any developments on Pakistan's latest notorious blasphemy case.

The Nov. 20 news photograph featured an austerely dressed Asia Bibi draped in a beige veil with only her eyes showing.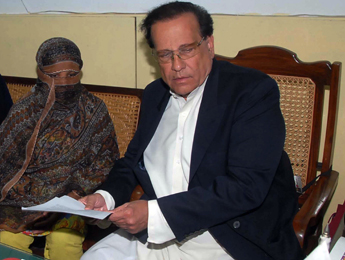 Sitting besides her at a prison in Sheikhupura, an industrial city in Pakistan's Punjab province, was the provincial governor.

Sporting a crisp blazer over a pristine white shalwar kameez - the loose-fitting shirt-trouser ensemble favored by Pakistani politicians - topped with a pair of rimless glasses, Taseer appeared to be handing Asia Bibi her appeal papers against a death sentence.

I was not present at the Sheikhupura jail, where Asia Bibi has been incarcerated since she became Pakistan's first woman to face the death penalty on blasphemy charges. So, I have no details of his comments to the press.

But his recent tweets show him to be a fearless and outspoken critic of one of Pakistan's most controversial laws.

"Demonstration against Blasphemy Laws & Shariat Court on Dec 30, 2 pm Parade Ground Islamabad. Stand up, be counted," he tweeted on Dec. 29.

That rally of course led to a nationwide strike the following Friday, when angry demonstrators, urged by radical Muslim clerics, took to the streets to protest against any possible changes to the blasphemy laws.

'Under huge pressure 2 cow down'

Human rights groups have long maintained that the law - which makes any perceived insult to Islam punishable by death – unfairly targets Pakistan's minorities.

A few former Pakistani leaders, such as ex-President Gen. Pervez Musharraf, had promised to reform the law. But in the end, they all succumbed to hardline Islamist pressure and the draconian law, a shameful legacy of former Pakistani dictator Gen. Zia ul-Haq's Islamization process, has remained largely unchanged.

Taseer seemed to have the political muscle to take on the pressure. In a Dec. 31 tweet, he proclaimed: "I was under huge pressure sure 2 cow down b4 rightest pressure on blasphemy. Refused. Even if I'm the last man standing."

Alas, he's not standing anymore.

Shortly after Taseer's brutal assassination, Pakistani Interior Minister Rehman Malik said the alleged killer had told the police he was angered by the late Punjab governor's endorsement of a pardon for Asia Bibi. A Pakistani security official said the suspect, identified as Mumtaz Qadri, told police that Taseer "deserved to be killed because he had termed the blasphemy law a black law."

'Peace prosperity & happiness'

In an earlier blog post, I predicted that Asia Bibi would be pardoned since the Pakistani government was loath to invite international opprobrium on a high profile case that has sparked pleas for clemency from Pope Benedict among a host of others.

But I'm not so sure any more. The Pakistani government is struggling to maintain a parliamentary majority after the MQM party pulled out of government earlier this week. Yousuf Raza Gilani is a lame duck prime minister in a country where the military establishment - not the civilian government - hold the real power. And the military establishment, as we well know, has uncomfortably close links with Islamist parties and groups.

In his final posting in 2010, Taseer, a consummate Twitter fan, tweeted: "Peace prosperity & happiness for new year… i'm full of optimism."

Optimism is in short supply in Pakistan these days.

As leading Pakistani writer Ahmed Rashid noted in his article, "Pakistan's very unhappy new year,' the troubled South Asian nation is suffering from crippling economic woes and an international community growing increasingly impatient with Pakistan's track record as the cradle of global jihadism.

I personally fear for the safety of two courageous Pakistani women: Asia Bibi, who remains in jail, and Sherry Rehman, a former Information Minister and member of the ruling PPP (Pakistani Peoples Party).

Rehman, a gutsy 50-year-old former journalist, had drafted a bill seeking to amend the blasphemy laws.

Predictably, hardline Islamist groups have issued dire threats, and some of the PPP's coalition partners have called for her dismissal from the party.

I can only hope that Rehman has adequate security – especially after today's disturbing news that Taseer was killed by a member of his own security unit.

I fear also for Asia Bibi's security. A suspiciously high number of people charged with blasphemy have been murdered before the completion of their trials – at least one of them while in jail. Last July, two brothers who were Christian were gunned down as they emerged from a court in Faisalabad, another city in the Punjab.

A hardline cleric has offered 500,000 rupees — roughly $5,800 — to anyone who kills Asia Bibi, according to a US news report.


Asia Bibi's relatives have told reporters they fear she could be killed in jail or at some point during her trial and they are now very afraid. They have every reason to be. Peace in Pakistan is still a long time coming and it probably won't happen this year.

Tags for all blogs :
Comments or opinions expressed on this blog are those of the individual contributors only, and do not necessarily represent the views of FRANCE 24. The content on this blog is provided on an "as-is" basis. FRANCE 24 is not liable for any damages whatsoever arising out of the content or use of this blog.