Tue, 02/15/2011 - 19:29
Battered, bruised, now threatened by new Afghan plan for women's shelters
In the spring of 2009, I sat in the sun-dappled courtyard of a Kabul women's shelter, nibbling melon slices as I interviewed Khatera Masjidzada.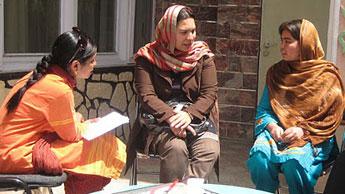 Khatera, who was 18 at that time, fled her 65-year-old husband's home after years of abuse when her husband – who also happens to be her cousin – hacked off her hair one night, burned her with a hot knife, and threatened to sell her to pay off a gambling debt.

But that was the bad old days before she sought refuge at the shelter, run by Women for Afghan Women (WAW), a New York- and Kabul-based NGO, which runs four shelters in Afghanistan, including the one in Kabul.

After the interview, Khatera, an aspiring beautician, proudly showed me her "beauty salon" which the shelter administrators encouraged her to run in a ground floor room on the premises.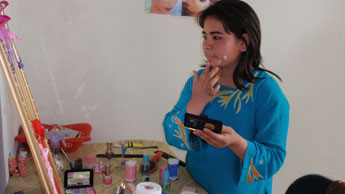 Daubing creams and powders as she posed for the camera, Khatera explained how she spreads cheer – and makeup – among the shelter residents, helping them momentarily forget the horrors of their pasts in the cheery salon, where hair and nails – if not souls – can be easily fixed.

The WAW Kabul shelter is one of about 14 such privately-run institutions across Afghanistan funded either by NGOs or the UN.

But now a new move by the Afghan government to take over privately-run women's shelters threatens the lives of countless Afghan women like Khatera, who are victims of severe domestic abuse in a country where violence against women is rife.

A draft regulation on Women's Protection Centers, that is currently being considered by the Afghan Council of Ministers, would require a woman like Khatera to justify her decision to flee an abusive family to an eight-member government panel.

The panel, which includes representatives of Afghanistan's notoriously conservative Supreme Court and Justice Ministry, would then determine whether she needed to be in a shelter or be sent to jail or back home. The bill also mandates forensic examinations that could include virginity tests.

The new rules have sparked howls of protest from Afghan women's rights activists.

"We are outraged by this bill," says Manizha Naderi, WAW executive director. "The government is trying to take over shelters, but the government does not have the capacity to do this work. The government is trying to appease the Taliban and is pandering to the conservatives. This will roll back years of hard-won progress on women's rights in Afghanistan."

The Misery - not Ministry - of Women's Affairs

In an interview with the New York Times, Fawzia Amini, legal affairs chief at the Afghan Women's Affairs Ministry – also known by the acronym, MOWA – said, "We don't want to assert control on the shelters or safe houses being run by the NGOs or other individual. (sic)"

But I have a copy of the 10-page "Draft Regulation on Women's Protection Centers" and Article 4 clearly states: "The MOWA shall be responsible for the administration of women's protection centers," before going on to add, "MOWA shall be obligated to appoint two of its female employees as the director and deputy to the women's protection center."

In other words, the chief legal official at the Ministry of Women's Affairs is not aware of what the new rules entail. After all these years of reporting in Afghanistan, this does not surprise me.

Born after the 2003 Bonn conference, MOWA kicked off in post-Taliban Afghanistan on the right note, when fiery Afghan rights activist Dr. Sima Samar was appointed Afghanistan's first Minister of Women's Affairs.

But then Samar was bumped out after two years in office for being, well, exceptionally forthright on women's rights, thereby earning death threats that did not rattle her, but terrified her jittery boss, President Hamid Karzai.

The Afghan president of course has consistently copped out on women's rights when confronted with the slightest "boo!" from the conservative warlord-mullah nexus.

At one stage, while I was training Afghan journalists in Kabul, I kept sending my reporter to MOWA in a bid to train her in beat reporting. She would invariably return with a laundry list of office supply complaints – the ministry has no computers, no chairs, no tables etc. – but no story on the pressing issue of Afghan women's rights.

At edit meetings, we started simply referring to MOWA as the Misery – not the Ministry – of Women's Affairs.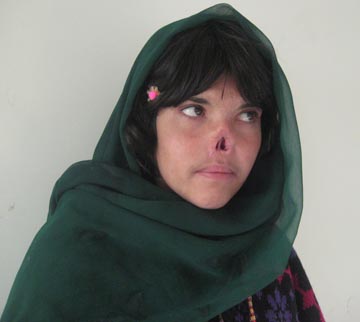 In an interview with the New York Times, Afghan Labour and Social Affairs Minister Amina Afzali, a well-known conservative in Afghan circles, blasted the Western media for publicizing the case of Bibi Aisha, a child bride who fled her marriage after her husband hacked off her nose.

Under the new rules, a representative of Afzali's ministry will sit on the eight-member government panel that will decide whether a woman fleeing domestic abuse will be sent to a shelter or back home.

The mind boggles. Where do I begin with these new regulations? How about the insensitivity of subjecting a traumatized victim of domestic violence to a government panel hearing?

Pandering to conservatives and cutting deals with the Taliban

Running a women's shelter is dangerous business in Afghanistan. WAW's shelters are in secret locations, since many families threaten any group trying to help female members who have fled abusive arranged marriages. Powerful, well-connected families are a particular menace.

Women's rights activists fear that the government – and a notoriously corrupt one at that – will not be able or willing to stand up to such family pressures.

One of the common misconceptions about Afghanistan is that its people are – to a man and woman – deeply conservative and reactionary. This is not true. There are several progressive Afghans and reforms in this country go back to the 1920s when then King Amanullah rolled back the power of the mullahs and promoted women's education. Subsequent governments did likewise until the Soviet invasion, when billions of dollars of Saudi and CIA funds got channelled – via Pakistan – to the mujahideen.

There are many progressives in Afghanistan, but as Karzai eases into his second presidential term, they are getting increasingly enfeebled.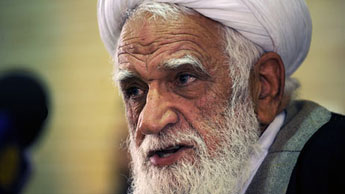 In his eagerness to cut deals with the Taliban and sundry Islamists, Karzai has proved exceptionally willing to sacrifice women's rights. He did that two years ago, when he tried to shovel through the reactionary Shiite Family Code, bowing to pressure from influential conservative cleric, Ayatollah Asif Mohseni (above).

Enter Afghanistan's Rush Limbaugh

Over the past few months, women's shelters have come in the crosshairs of right-wing TV host Nasto Naderi, Afghanistan's 27-year-old version of Rush Limbaugh whose show "My Homeland" is broadcast on Noorin TV.

Naderi has launched a vicious campaign against women's shelters, calling them dens of prostitution where all sorts of un-Islamic activities occur. He has never visited a shelter, by his own admission, but he claims to have received hundreds of inquiries from Afghans concerned that the women in the shelters are "misused sexually."

That was just background context. Here comes the clincher. The man Karzai chose to head a recent government inquiry into shelters was Nematullah Shahrani, a conservative mullah who told reporters that a Noorin TV program and the complaints it generated had influenced his investigation.

According to WAW executive director Manizha Naderi (no relation to conservative TV host Nasto Naderi) Shahrani's team did visit the Kabul shelter. But his report has not been made public.

Meanwhile, almost two years after I first interviewed her at the shelter, Khatera is still at the WAW shelter. A few months ago she got a job offer as a beautician and, under normal circumstances, she would have been allowed to leave the shelter and start providing for herself. But Khatera was referred to the shelter by MOWA and MOWA referrals follow MOWA guidelines, which means women can't leave the shelter until a marham – or male guardian – claims them.

And so, in the absence of a male guardian, Khatera stays on at the WAW shelter, dispensing facials and manicures, and dreaming of a time when she can finally earn a living and get back to normal life.

But if the government's current conservative agenda rolls on, Khatera's dream will remain a distant one.

Tags for all blogs :
Comments or opinions expressed on this blog are those of the individual contributors only, and do not necessarily represent the views of FRANCE 24. The content on this blog is provided on an "as-is" basis. FRANCE 24 is not liable for any damages whatsoever arising out of the content or use of this blog.