Thu, 06/02/2011 - 14:17
Another Pakistani reporter killed and this time, all eyes are on the ISI
The first alert I received was on Monday, when Amnesty International's Sam Zarifi posted a brief report in the Pakistani daily, Dawn, titled, "Journalist Saleem Shahzad goes missing". "Keeping an eye on this unsavory turn of events. Hoping for a quick and happy resolution," wrote Zarifi.
But that was not to be.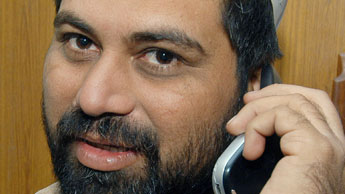 By Wednesday, Shahzad's relatives had identified his body, which was found about 100 miles from his abandoned car. Shahzad was abducted Sunday evening in the plush, highly secured F-6/2 neighborhood of Islamabad while he was on his way to do an interview with the Dunya News channel about his latest piece on the alleged links between al Qaeda and Pakistani Navy officials published in the Hong Kong-based Asia Times Online.
Citing unnamed naval officials, the piece alleged that a May 22 attack on the Pakistani Navy's main base in Karachi was carried out because the Navy refused to release officials arrested on suspicion of al Qaeda links.

The Karachi base attack – in which 10 people were killed and two US surveillance planes destroyed – was deeply embarrassing for Pakistan's all-powerful military. Like the Oct. 2009 attack on the Army headquarters in Rawalpindi, it was proof that the Pakistani military has been infiltrated by militants.
As I have frequently said, the Pakistani military is adept at a whole load of things – from real estate, to running cement and cornflakes factories, to running the whole damn country. While they're at it, the military's also particularly good at seeking – and getting – billions of dollars of US aid.
But the Pakistani military alas is woefully inept at doing the sort of things militaries should be doing: winning conventional wars, securing the country and securing themselves.
The Osama bin Laden killing operation in Abbottabad minus Pakistani inputs is just one example. Everybody knows the attacks on the military's Karachi base and Rawalpindi headquarters occurred due to militant infiltration.
But the Pakistani military-intelligence apparatus apparently believes this is top secret information. Which is why Shahzad's final article was such a thorn in the military's side.
'Kill and Dump Operations'
Of course everyone suspects a military involvement in Shahzad's death.
Why?
Because it has all the familiar signs.
In Pakistani circles, it's called "kill and dump operations". The list of "kill and dump" victims in the restive western province of Baluchistan makes for long, disturbing reading and includes students, political activists, teachers and journalists – in short the kind of Baluchis likely to create a stink about the long history of official Pakistani oppression in the resource-rich yet impoverished province.
Photographs of Shahzad's body aired on local TV stations showed a bruised face and a subsequent post-mortem report said there were 15 torture marks on his body – but no bullets.
For Umar Cheema, an award-winning Pakistani investigative reporter, it must have been a case of deja-vu.
On Sept. 4, 2010, Cheema was picked up on the outskirts of Islamabad by suspected intelligence agents, driven to an unknown location, stripped naked, hung upside down and whipped for a day before being released.
While Cheema got out alive, he now lives in what he calls a state of "self-imposed house arrest" because he's too "scared to go out".
When journalists have to 'discuss' their stories with the ISI
Shahzad himself has had uncomfortable run-ins with the ISI before.
On Oct. 17, 2010, Shahzad was summoned to the ISI to "discuss" a report he did on the release of senior Taliban figure Mullah Baradar from Pakistani detention so that Baradar could participate in negotiations with the Afghan Taliban.
Remember, the Pakistani military is afraid the Afghan authorities might strike a deal with the Taliban without Islamabad's intervention and approval.
It's another one of the military's potentially debilitating fears, but never mind. To get back to Shahzad's earlier brushes with the ISI…
The day after his "discussion" with the ISI, Shahzad sent an email to Human Rights Watch's Ali Hassan Dayan, according to Time magazine, where the late Pakistani reporter charged that shortly after the "discussion" an ISI official told him: "I must give you a favor. We have recently arrested a terrorist and recovered a lot of data, diaries and other material during the interrogation. The terrorist had a list with him. If I find your name in the list, I will certainly let you know."
Attempting to intimidate a particularly nosy reporter - now that's classic intimidation ISI style.
The ISI, it must be said, has roundly denied playing a role in Shahzad's death. In a rare media statement, the shadowy spy network said, "It is regrettable that some sections of the media have taken upon themselves to use the incident for targeting and maligning the ISI," before going on to warn that "the media should act with responsibility to avoid any possible legal" problems.
Blame the messenger – another inimitably ISI way of doing business.
But who believes the ISI anyway? Not when Human Rights Watch's Dayan told reporters early Monday that he had "confirmation from the agency that it was detaining Shahzad" and that the detained reporter would return home Monday night.
They apparently didn't add the addendum, "dead or alive".
Did Clinton drink the Kool-Aid with Pasha?
Pakistan is not a safe place for journalists, we all know, but I'm not going to get into it here.
I am however going to take a few seconds to note US Secretary of State Hillary Clinton's condemnation of Shahzad's death. "The United States strongly condemns the abduction and killing of reporter Syed Saleem Shahzad," said Clinton in a statement.
Fair enough. But this is the same Clinton who met with ISI chief Gen. Ahmed Shuja Pasha during her visit to Pakistan last week and told reporters that her meetings in Islamabad had been "open, frank and constructive".
Well, if she really did have an open and frank discussion with Pasha, I'd love to have been a fly on the wall.
Pasha is smooth, there ain't no doubt about it. Since he took over the ISI in 2008, he's been interviewed by German magazine Der Spiegel – a rare one for an ISI chief – in his office dressed in "a gray suit and a stylish pink tie" while tea was served in "white English porcelain cups".
His office, with its "expensive wooden furniture" and "elegant armchairs" is a far cry from his agents' areas of operation. It's easy to see how visitors could be fooled into believing a meeting under such circumstances is open and frank. But I think Clinton is a lot smarter than that.
Pakistani authorities have launched an investigation into Shahzad's killing.
But the New York-based Committee to Protect Journalists ranks Pakistan tenth on its 2011 Impunity Index, which calculates unsolved journalist murders as a percentage of each country's population.
Once again, I'm not putting my money on anyone solving this one.

Tags for all blogs :
Comments or opinions expressed on this blog are those of the individual contributors only, and do not necessarily represent the views of FRANCE 24. The content on this blog is provided on an "as-is" basis. FRANCE 24 is not liable for any damages whatsoever arising out of the content or use of this blog.