Thu, 01/06/2011 - 23:00
Silencing the Silent: Taseer's Murder Exposes Pakistan's Deep Divide
First came the shock and horror after learning about Punjab Governor Salman Taseer's brutal murder by a man who was supposed to be protecting him.

Then came a sense of disquiet when the photograph of his alleged killer hit the wires shortly after the murder.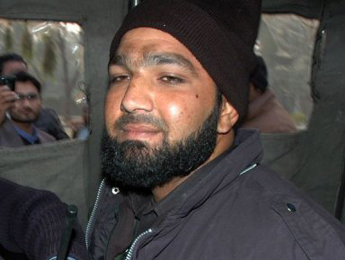 Pudgy, bearded, and with a distinctive zebiba – or prayer bump that devout Muslims sport due to prolonged contact between forehead and prayer-mat – Malik Mumtaz Hussain Qadri wore a beatific smile as he was led away by police. That smile disturbed me.

The following day, barely 24 hours after the assassination, the disquiet had given way to revulsion.

As Qadri appeared at an Islamabad court, lawyers outside the courthouse cheered him, showering the confessed killer with rose petals as the burly security guard acknowledged his supporters with a throaty, "We are ready to sacrifice our lives for the prestige of the Prophet Muhammed."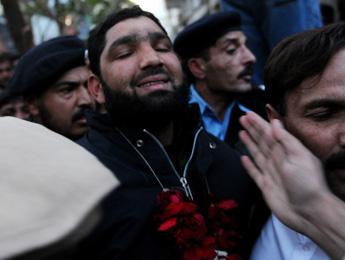 Qadri of course had admitting killing Taseer in retaliation for the Punjab governor's criticism of Pakistan's blasphemy laws, making Taseer the latest victim of the country's most infamous piece of legislation.
(See France 24 blog: Pakistan's 'Last Man Standing' Against Blasphemy Laws Becomes Its Latest Victim)

The Qadri cheerleaders at the Islamabad court were not the usual bunch of mostly impoverished, largely uneducated madrassa masses that dutifully appear on Pakistani streets, burning US flags or effigies of the current US politician sparking Pakistani ire.

These were lawyers, the same men who led the protests that finally led to then very unpopular President Pervez Musharraf's fall from power.

But even as the lawyers in Islamabad were hailing their controversial champion, barely 160 miles away, a grief-stricken gathering was laying Taseer to rest in the eastern Pakistani city of Lahore.

Taseer of course was the governor of Pakistan's most populated province of Punjab. Hours after he was killed, the streets of the Punjabi capital of Lahore erupted as grieving, enraged Lahoris took to the streets, burning tyres and blocking traffic.

The scenes of mourning – ordinary people screaming in anguish, women tearfully wailing – were gut-wrenching.

Barely 160 easily navigable miles separated the two gatherings. But in terms of emotions, an insurmountable universe divided the two groups.

Where is the silent majority – or is it still the majority?

Divided societies are nothing new – every country has them in varying degrees.

But this time, a rug I have hugged for many decades appeared to be slipping from under my feet.

I can't count the number of dinner conversations I've hijacked, brandishing my "Pakistan's silent moderate majority" argument, berating any hapless soul who dared dismiss Pakistan as a nation of hardline Islamist whackos.

I've droned on about how Islamist parties never win national elections, it's always the secular national parties – the PPP or the PML – that sweep the polls. "You can't judge a country by the noise a vocal minority kicks up on the streets," I've maintained.

Suddenly, I just don't want to talk about majorities or minorities, silent or vocal, anymore. I haven't seen any scientific polls, and now I'm not so sure.

'God bless him !!!'

A Facebook page of Qadri supporters clocked about 2,000 "likes" before it vanished into the ether. Another one promptly appeared. "God bless him !!! in eternity, we all should pray for him, He is a soldier of Islam, he proved it," proclaimed the new Facebook fan-page. Some of the fans even have Qadri's beatifically smiling post-murder photo for a Facebook profile shot. The last time I looked, the page had 137 fans before it vanished.

Of course there are many, many Pakistanis horrified by this reaction and Twitter is buzzing with posts expressing outrage that a confessed killer should turn into a hero.

But while their voices can be heard on Twitter, don't expect to hear liberal voices in the Pakistani political sphere any time soon.

As I noted in a blog posted shortly after his murder, Taseer was a vocal critic of the blasphemy laws, which makes any perceived insult of the Prophet Muhammed punishable by death.
(See France 24 blog: Pakistan's 'Last Man Standing' Against Blasphemy Laws Becomes Its Latest Victim)

His sin apparently was to support a pardon for Asia Bibi, a Christian mother of two and stepmother of three, who is the first Pakistani woman to face the death penalty on blasphemy charges.

When the Asia Bibi case first hit the headlines last year, I snidely blogged about how many Pakistani politicians through the years have promised - but never dared to - reform the infamous laws.

The blasphemy laws of course are a legacy of former Pakistani dictator Gen. Zia ul-Haq's misguided Islamization process in the 1980s. None of Pakistan's leaders after Zia's death – not Benazir Bhutto, neither Nawaz Sharif, nor Musharraf, nor Asif Ali Zardari – have had the muscle to reform the law, I sneered.
(See France 24 blog: Pakistan's 'Blaspheming' Christians: Suicidal, Insane or Merely Framed?)

The biggest problem with the law, according to human rights activists, is that blasphemy charges in Pakistan have become the easiest way of settling scores and discriminating against minorities.

As I noted in my November blog, no Pakistani – especially not a Christian – would dare insult the Prophet unless he or she were suicidal or insane.

Now I know that no Pakistani politician will dare reform the blasphemy laws unless he or she is insanely courageous, insanely suicidal, or merely insanely insane.

There are a large number of liberal Pakistanis who don't support the law – a majority or a minority, I'm not getting into that anymore. But what's for sure, is that Pakistani society has veered dangerously, too dangerously, into the radical sphere.

And one thing's for sure: the silent liberals will now be even more silenced.

In an interview with the BBC's Newshour, Tariq Khattak, editor of the pro-military Pakistan Observer, vociferously maintained that by killing the Punjab governor, Qadri had done the right thing.

When asked if Pakistan was heading for a clash between liberals and hardliners, he said he doubted it would happen "in the near future" because "the death of the governor of Punjab will caution many who used to issue such statements".

"Used to issue such statements" – note that phrase.

When asked if he believed Qadri himself would face justice – the death penalty, for instance – Khattak was at his most ominous. "The court and judges will also be too cautious to announce a verdict which is against the thinking of a majority of the people," he said. "Judges are also human beings."

I don't know about you, but I'm not taking my eyes off the Qadri justice case. I hope Khattak will be proved wrong. But somehow I doubt it.

Tags for all blogs :
Comments or opinions expressed on this blog are those of the individual contributors only, and do not necessarily represent the views of FRANCE 24. The content on this blog is provided on an "as-is" basis. FRANCE 24 is not liable for any damages whatsoever arising out of the content or use of this blog.